COTN "Off the Grid" Artist Residency with Cate Richards Youtube Video
Case of the Nomads Artist Residency was a 7 day, off the grid artist residency in Joshua Tree National Park. I selected one lucky artist, out of numerous applications across the US, to experience life off the grid with me. The purpose of the residency was to allow artists the opportunity to explore limitations as creative outlets, learn how to use less, to connect with nature and to become exposed to the minimalist lifestyle. Plus, the utter kindness and the "finding one's self" experiences was something I wanted to give back or "Pay it Forward".

This is the perspective of both resident artist, Cate, and resident host, Casey. Enjoy and thanks for reading. Thank you to Biolite and Big Agnes for your amazing products, which helps to make adventuring possible. Thank you to Crafthaus for the great 4 blog post series on the residency. And finally, a big, huge, bear hug thank you to Cate Richards, you're a badass!!!
"Jewelry For Trees: Beaded Necklace" Cate Richards, Joshua Tree National Park 2017 Photo by Casey Sheppard
This was my first visit to Joshua Tree National Park. Unlike the rhythmic grey wash of bluestem and wheat to which I am accustomed, the ecosystem of the Mojave looked randomly stippled with organic life. Every plant appeared to give itself a wide berth from its neighbors, creating a dotted environment where each entity was exhibited in full view. Desert fauna is alien-like, and I had the good fortune of experiencing the Mojave at a time where it was in full bloom with many tendril and palm cupping brightly colored flowers. The desert sky rivaled a Midwestern panorama - in the daytime I was able to gauge the time by the sun's position against a brilliant blue backdrop, and at night a razor-sharp moon would rise, surrounded by a crystal clear spattering of stars.

Making work in Joshua Tree was unlike any creative setting I have ever experienced. The very ecosystem seemed designed to fend itself against usurpers by thorn, tooth, and stinger. I quickly learned that I would have to cooperate with my surroundings as they changed, often from day to day. The harsh weather conditions radiated between blazing sun to chilly shadow, both often coupled with high winds, sometimes upwards of 50mph.
Cate at work
I was intent on creating finished work while in the park instead of spending my time only planning future projects. In preparation, I brought with me only a few select rudimentary tools and materials, my cameras, and a tripod; all other materials were sourced from surrounding areas. In accordance with park regulations, a strict system of "conceive, execute, catalog, and remove" was adopted. I could not gather any living materials from the park, nor leave anything on display for an extended period of time, as it might disturb local wildlife. Everything I brought into the park was removed upon the conclusion of my residency. This made photography and video documentation the ideal method for recording work both physical and experiential.

Most traditional comforts were gone - I slept on the ground, had no internet or phone signal, and meals were prepared over a fire. While these restrictions were uncomfortable at first, I began to thrive in their absence. I had nothing to distract me from focusing on my surroundings, which I drew from to create work. Each new day brought discovery - I became enamored with the anthropomorphic qualities of the Joshua Trees, the way the winds howled, the natural beds of crystal jutting up from the ground, and the way the natural monzogranite formations served as beacons for travelers. All this translated to risk taking and responsiveness in my work.
"Petropath" Cate Richards, Joshua Tree National Park 2017 Photo by Casey Sheppard
"Sand Necklace" Left, "A Homage to Ana with Orientation" Right both by Cate Richards, Joshua Tree National Park 2017 Photo By Casey Sheppard
It was through these new limitations that I realized my dependence on accessibility back at my home studio. Often, I order what is required, and am never too far away from a needed tool. In the park, I annealed metal in campfire, problem solved at a much higher rate, and utilized garbage, stones, and borrowed blankets in my attempts to achieve what I wanted. I learned to embrace deviations from plans and place more faith in experimentation. It's a type of experience I encourage all makers to try.

Much thanks to Casey of Case of The Nomads for this opportunity, as well as her expertise and knowledge of the desert. There is a rich history of the desert and art-making, and now I see why. My experiences in Joshua Tree National Park will stay with me for years to come, and I certainly emerged out of them a better artist.
Cate cooking dinner with Biolite clean energy stove which uses sticks and twigs as fuel
Resident Host : Casey Sheppard
Just breaking the speed limit, I passed the usually full campsite signs that cover the Park over the weekends. But today was Tuesday. I tried to keep my calm, which was easily blown away with the next intense gust of wind. Next, I passed a new sign that was covered in construction worker orange. Glowing with the intense morning rays, the words jumped at me screaming their all cap authoritative statement: ALL CAMPGROUNDS FULL!!!

"Oh crap!" I spat out along with a few f-bombs then sped in a crazed attempt to find a vacant campsite during the biggest bloom the desert has seen in 10 years. I was no longer breaking but full on destroying the law. She was traveling hundreds of miles to spend a week in the park and I didn't even have a camping spot. "You will figure it out, you always do," I reassuringly told myself. I knew this park and I knew this desert. I knew her rules and how to bend, even break them.

After finally finding the setting of the 7 days off the grid artist residency, aka a campsite, I went into autopilot setting up. I put up Cate's tent, which would become her home for the week. I hoped she would be able to handle the wind, the cold, the hot and the limitations to create. I also hoped that I had chosen wisely by selecting Cate over the numerous others who applied.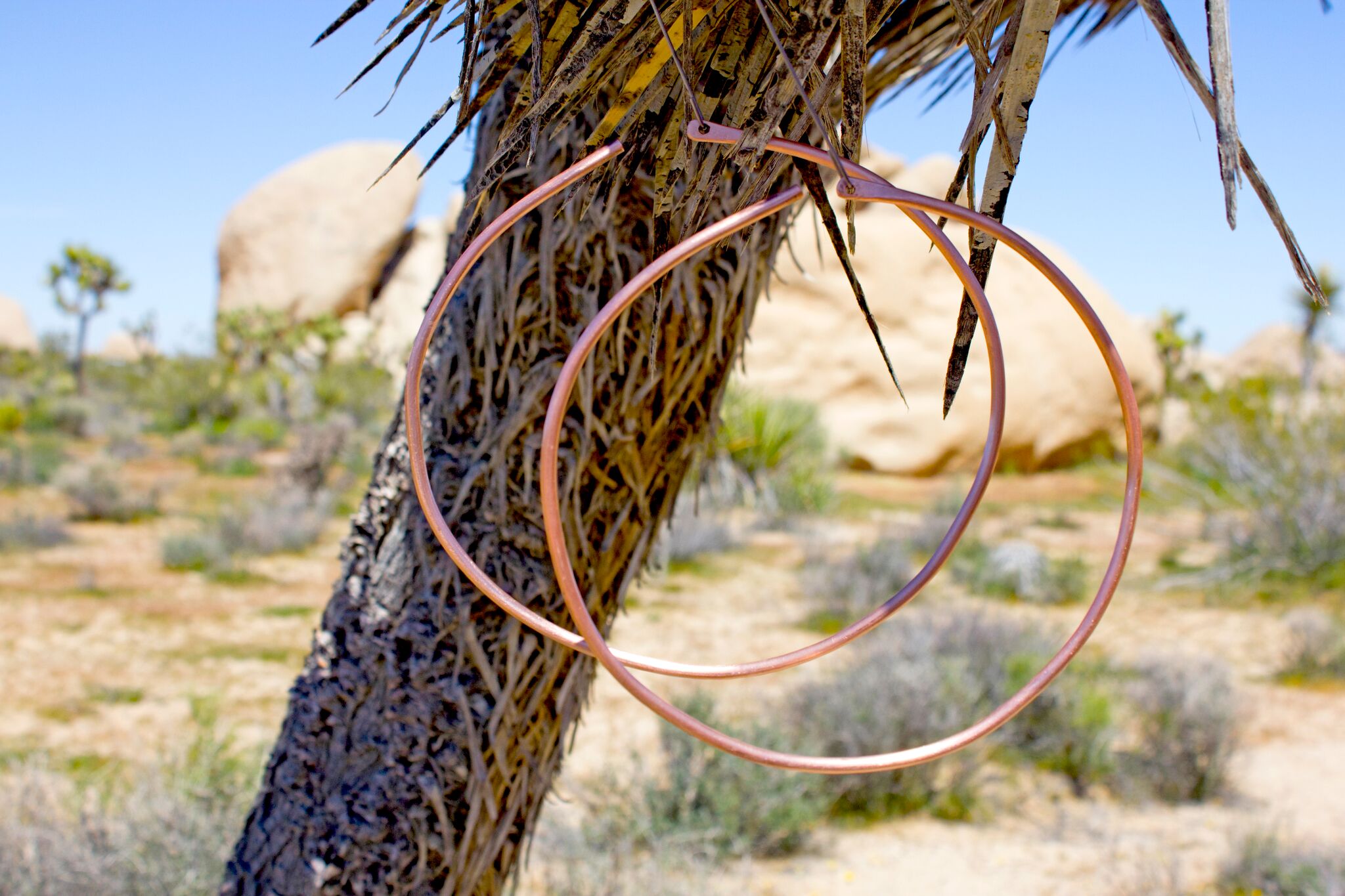 "Jewelry for Trees Earrings" by Cate Richards, Joshua Tree National Park 2017 Photo By Casey Sheppard
After picking her up from the airport, we headed into the dark night of the park. We talked chitchat until we arrived to our campsite. I showed Cate the tent and her bed, which was ready to capture her tired traveled body. Handing over a flashlight, along with directions to the outhouse, I bid her goodnight. "Call on me if you anything." As I crawled into the van I was hit with insomnia, then anxiety. I now faced the realization that I was responsible for another being in a place where death can and would easily and effortlessly sneak up on you.

My anxiety eased with each day. I saw Cate face challenge after challenge; going through battles that I had faced when I first went off the grid. I stood by, giving support and space for her to find her own way. Which she did. It's a rarity to witness someone's personal growth in front of your own eyes and even more rare to see this within a few days.
"Being the Rocks Joshua Tree" by Cate Richards, Joshua Tree National Park 2017 Photo By Casey Sheppard
The Joshua Treenial (which is a weekend of art, installations, performances and community building which highlight all that Joshua Tree inspires and makes possible) was the same weekend; the last Treenial was 2 years earlier. With a small change of plans, Cate lite up at the opportunity to spend a day or two exploring the Treenial events. I began to feel this residency wasn't only mine but it was also hers. I began to let go and re-adjust just as Cate was. The events brought so much to the residency. Inspiring thoughts, conversations, questions which we jived about each night under the endless sky of blazing stars.

Arriving at the 7th day, we had developed a routine that now came to an end. We bid our goodbyes and as I drove back into the desert I felt a sense of growth not just within Cate but also within myself.
Cate on her last day of the residency at the Salton Sea